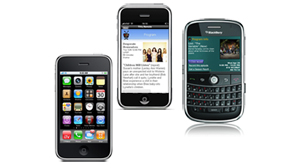 With TiVo Mobile you can access TV listings and schedule shows to record on your TiVo box at home, all from an easy-to-use interface on your web-enabled mobile phone.
This feature is available on:
Series2
Series3
TiVo HD and HD XL
All TiVo Premiere boxes
Finding and recording shows
It's easy to start finding shows to record. Launch your phone's web browser and go to tivo.com.See it
If this is your first time using TiVo Mobile, or if you haven't signed in for a while, sign in using your tivo.com username and password. This will ensure that you find shows based on your box's channel lineup. (To sign in, use the "Sign In" link at the top of the page, or click "Settings.")
From the TiVo Mobile home screen, you can choose shows from one of TiVo's provided lists or search for a particular show. Select one of the following options:

Search. Enter a keyword, show title, actor, or director name to browse TV listings, or select "What's on Tonight" to see a list of shows airing tonight.
Daily Picks. Choose a show from a list of daily TiVo recommendations.
Most Popular. Browse the most popular shows as chosen by TiVo users. The list is updated daily.
Browse by Category. Browse shows in a variety of genres and show types.

Note: If you enter a "*" after any search term, the TiVo Mobile service will look for all occurrences of that phrase and any sequence of characters after it. For example, if you search for "west," TiVo Mobile will find shows including only the word "west." However, if you search for "west*," TiVo Mobile will find shows that include the words "western" as well as "west."

When you find a show to record, select it to read a synopsis of the show or series and schedule your recording. To schedule a recording, select one of the following:See it

1-Click Record: Record the episode with the default recording options of your box. (If you want to change recording options, select "Record this Episode" instead, or set up your TiVo Mobile default recording options on the Settings page. See Setting recording options below for more.)
Record this Episode: Record the episode and set recording options. To set these options as your default 1-Click Recording options, click the check box at the top of the screen. See it
Get a Season Pass: Record new episodes each week. You can even specify whether to skip reruns or record all episodes.

If prompted, sign in to your TiVo account using your tivo.com e-mail address and password.

Once you're signed in to your tivo.com account, you will remain signed-in for 60 days, or until you sign out using the Settings menu (see below).See it

Click Record to confirm your recording request.
Setting recording options
Use the "Settings" menu on the TiVo Mobile home page to set your default 1-Click Recording options.See it
Select "1-Click Recording Options." Recording options include:See it

Priority: Choose how to handle recording conflicts.
Recording Quality: Choose from DVR default, basic, medium, high, or best quality.
Keep Until date: Set how long to save the recording.
Start/Stop Times: Modify the start and stop time of the recording.
Email confirmation: Enter the email address where you would like to receive a confirmation.

To set recording options for an individual show, choose "Record this Episode" instead of "1-Click Record" from the information screen. When you choose "Record this Episode," the Recording Options screen will also include a "Channel" drop-down menu that lets you to choose which channel to record if the show airs on more than one channel (for instance, on a standard and an HD channel).
Setting other options and signing out
Use the "Settings" menu to choose which of your TiVo boxes receives your recording requests by default, or to sign out.See it